Are you looking for affordable die cast molding products and die casting mold designs? Pintejin Group will provide you a fast and convenient solution to reduce the risk and cost of designs and production. We are an industry-leading provider of advanced die casting mold making services.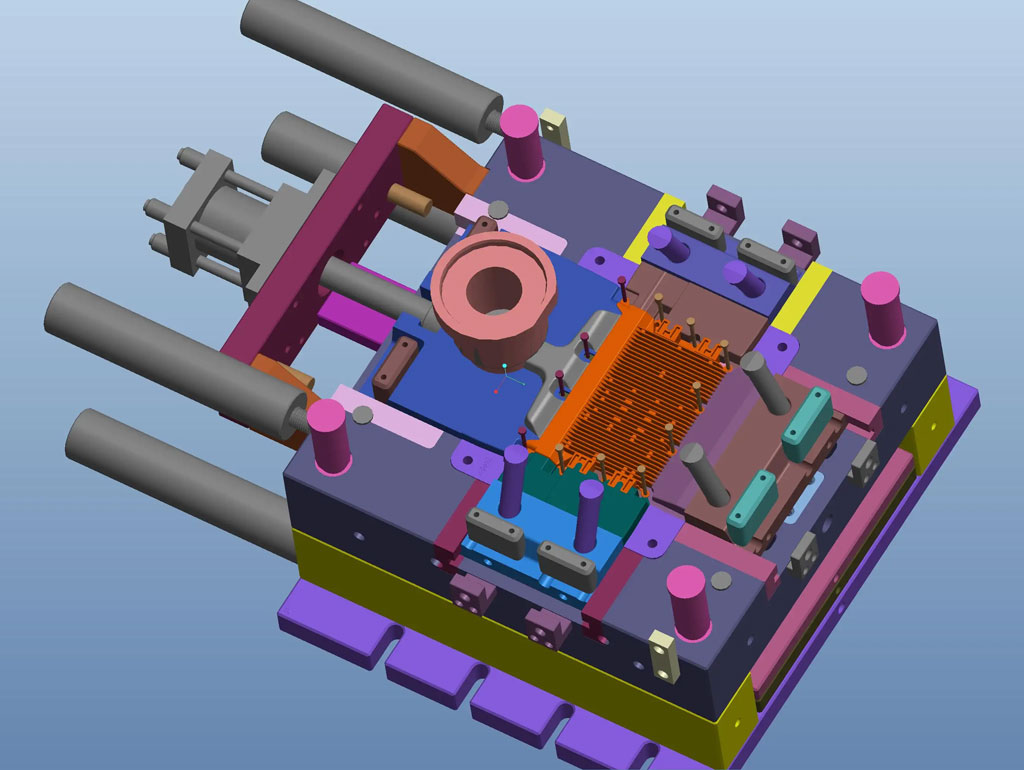 Die Casting Molds For Radiator
Leading China Die Casting Mold Manufacturer – High Pressure Mold Making Service Company
---
Over the years, there have been a number of processes that are used to make metal parts, most popular being machining and produced by die casting mold.Die casting mold is composed of two parts, which are separated according to the draft angle of the product. The molten metal is injected from the stationary end, and the die casting part is solidified by cooling. The die casting part will stay on the moving side, and the moving side will pass through the thimble Eject the die casting, spray lubricant on the mold after the die casting is taken out.It's a process completed on a special die casting mould forging machine. Its basic technological process is: the liquid metal is firstly filled into the cavity of the mold by low or high speed casting, and the mould has a movable cavity surface.
If you have a projects that needs volume die casting mold making service, you are come to the right place! Pintejin is a leading China mold making service company that specializes in providing quality die casting mold and parts with affordable price to a wide range of industries such as Lighting, Medical, Auto, Electrical and more. Molds and molded parts including all finishing steps, surfaces and assembly. With more than 30 years of experience, in the early stage of the mold, it is necessary to confirm the mold flow analysis and product analysis report, and start simple mold design until the product drawing is approved by the customer; analyze the die-casting material, shape, structure, and size of the product parts from the perspective of die casting processing performance accuracy. ​We own advanced techniques, highly skilled staff that employ superior tooling and high pressure die casting processes to ensure that the mold parts are of the highest quality and are cost effective. Contact our expert team and get a price for your die casting mold/tooling project, we will quote you a mold price in 24 hours..
Why Choose Our Die Cast Mold Manufacturing Services?
---
There are huge numbers of mold making companies. Why should you choose us as your tooling & die casting supplier? Here are the reasons:
High production capability and competitive prices for die casting service are offered.
We have rich die cast mold manufacturing experiences for over 30 years and earned a good reputation.
Exceptional customer service and communication.
Multiple of die casting mold designs & types – thin wall, Gravity Casting,Investment casting& sand casting are available to meet custom needs.
Do precision die casting parts manufacturing according to your drawings or samples.
Finish the parts with service of mold making in time to provide the strongest support for your R&D projects.
Our automated quoting, design analysis, and manufacturing process allows us to ship die casting orders in as fast as 1 day.
We have advanced production equipment and facility, technology and materials to make the most precise die casting mold as well as great aspect .
We have the most experienced engineers and tooling partners that will really make a difference in your lead times, costs and final quality.
Contact Pintejin Die Casting to learn more about our Custom Die Cast Molds or Request a Quote today.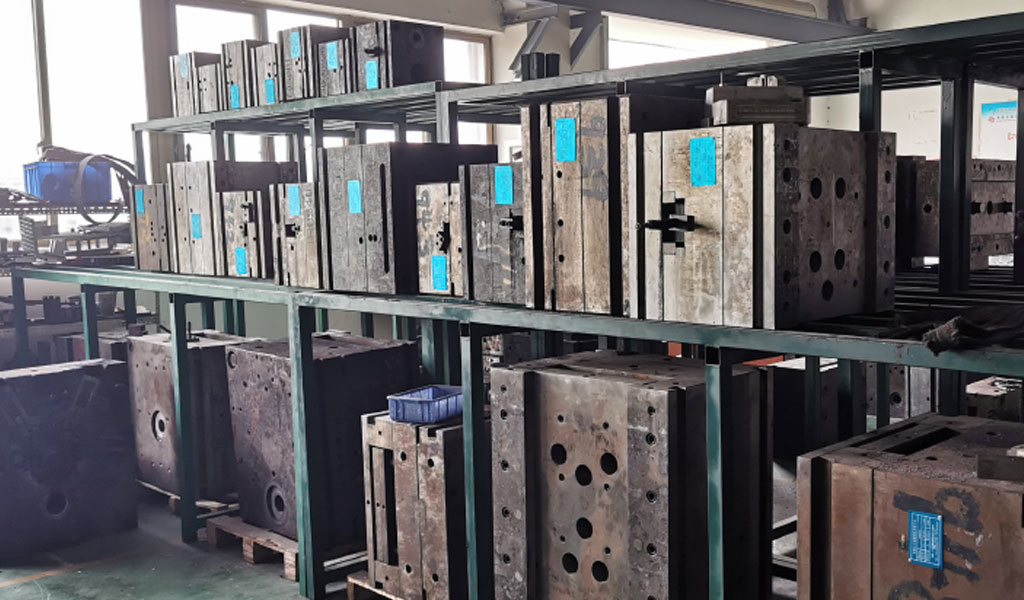 Die casting is a manufacturing process that is commonly used for producing accurately dimensioned, sharply defined, smooth, or textured surface metal parts. It is accomplished by forcing molten metal under high pressure into reusable metal dies.
The Pintejin Case Studies Of Die Casting Molds
---
Pintejin Casting fabrication services are available for both design to reality and low to high volume production runs of your die casting molds and more.
How To Make Die Casting Molds – The Define Of High Pressure Die Casting Mold
---
Die-casting materials, die-casting machines, and molds are the three major elements of die-casting production, and none of them are indispensable. The so-called high pressure die casting process is the organic and comprehensive use of these three elements, so that it can stably, rhythmically and efficiently produce qualified castings with good appearance, internal quality, and dimensions that meet the requirements of the drawing or agreement, or even high-quality castings. ;Die-casting mold is a tool for casting metal parts, a tool for completing the die-casting process on a dedicated die-casting die forging machine. The basic process of die-casting is: first low-speed or high-speed casting of molten metal into the cavity of the mold, the mold has a movable cavity surface, it is pressurized forging with the cooling process of the molten metal, which eliminates the shrinkage of the blank. Loose defects also make the internal structure of the blank reach broken grains in the forged state. The comprehensive mechanical properties of the blank have been significantly improved.We provide high pressure die casting mold and parts, surface finish, post manufacturing, and assembling services to a wide range of industries die casting parts such as lighting, medical, commercial equipment, motor vehicle, telecommunications, electronic product, and many more.Additionally, Pintejin will guarantee 1 million shots tool life for tool making parts from zinc ZAMAK alloys and 100K shots tool life for tooling making parts from aluminum alloys. if your project needs high pressure die casting mold services, contact us.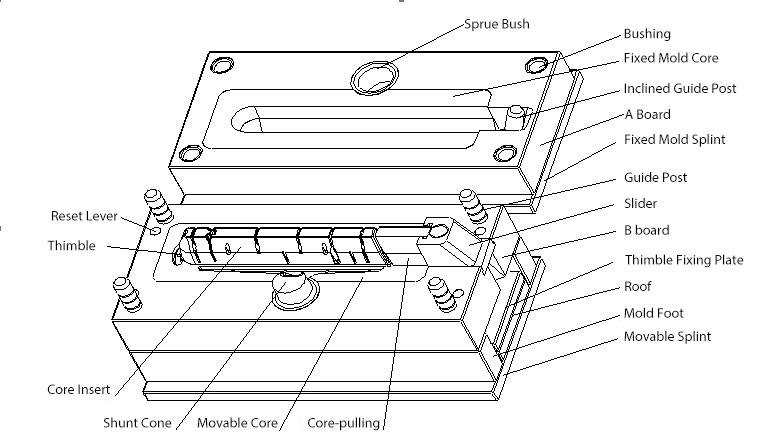 The Composition Of Die Casting Mold
Molding part (moving and fixed mold core, molding insert, core pulling core, etc.)
Mould base part (moving and fixed mould splint, AB board, pallet, mould foot)
Bypass system (sprue sleeve, shunt cone, cross runner, inlet and outlet)
Overflow system (overflow tank, exhaust tank)
Ejection mechanism (thimble, thimble fixing plate, ejection plate, reset lever)
Guide parts (guide post, guide sleeve, middle guide post, middle guide sleeve)
Core-pulling mechanism (core-pulling slider, oblique guide post, clamping block, spring, etc.)
Others (cooling system, heating system, strengthening column, etc.)
Common die casting mold manufacturing materials
H13 (heat-resistant steel) for front and rear mold cores, core pulling cores, sprue sleeves, shunt cones, etc.); 45# steel (for A, B plates, sliders, inclined guide pillars, etc.); T8, T10 (guide pillars) , Guide sleeve, thimble, reset rod, etc.); A3 steel (front and rear mold splints, pallets, thimble plates, mold feet, etc.)
The Engineering Of Die Casting Molds – The Design Steps Of High Pressure Die Casting Molds
---
A good Engineering team is a security to guide each project running smoothly or not, even successful or failing. Pintejin pays lots of attention to the mould construction, feeding systems, cooling channels and moving mechanisms to ensure the highest quality die casting parts are delivered from the die casting molds at the minimum cycle time. The professional engineers from Pintejin will make the good mold design to help the customer to solve the issues in structure and function to the products,
We are happy to provide our professional suggestions regarding part design an mold making feasibility to your new product development as well
The software we are using:UG, Auto CAD, Pro/E, Solidworks,
Mould flow Analysis will be provided during the plastic mold design period.
General Mold design steps follow:
Before mold design we will make DFM Report completely and send this to customer for custom update or approval, if necessary we will run the moldflow to choose the best gate location, normally small part no need this analysis, but the big size metal using the modflow to pick up the gate location will be the best idea.
Once DFM report approved, we will start to design a completely 3D Mold tooling drawing with whole assembling components in it. also 2D assembling layout with BOM list
We not only satisfy your demands as your supplier but also we energetically look for methods to optimize your mould structure therefore save your cost and time during long period massive producing. We have good quality management techniques that are so successful.
Once the Mold drawing approved then we will run Mold flow analysis with cooling line to check all of possible issues, you can got our our moldflow analysis page to check more details.
We analyze, improve and completely finish any existing mould issue may have that is not reaching your demands and specifications. As the best mold manufacturer in China we put a new management system on the issue and get solutions on what we will improve to solve the issue. We always listen to you, our customers.
We do not just classify your problem into a pre-set mould solution. We input time to learn your business requirements, your difficulties and your production demands, after that we suggest a solution to the issues.
There are automatically profits along when you work with our organization of our dedication, our high grade steel materials & manufacturing tolerance standards, our highly effective system approach to each of the processing, from designing up to shipping.
Global Die Casting Mold Manufacturing Services
---
Pintejin Casting is a global manufacturer of both conventional and multi-slide die cast precision components. Our engineers offer design solutions for a variety of industries including consumer electronics, automotive, healthcare, and more. When our engineers are involved early in the project, they can help design a tool and part specifically for mass production. All of our customers receive insight and expertise throughout all stages of the project. Contact our engineering team to request a quote today.
Seven Typical Process of Die Casting Making:
Step 1: Product DFM & Mold Design
Step 2: Mold Steel and Other Accessories Purchase
Step 3: CNC Machining
Step 4: Heat Treatment
Step 5: WireCutting/EDM/Milling/Drilling/
Step 6: Mold Fitting, Assembly, and Trial
Step 7: Refine, polish, and Texture
If the final casting product meets our specification, it's time to polish and texture the mold. Then the whole process is signed off.
The Design Points Of Die Casting Molds
---
The most widely used materials for die-casting molds are H13, SKD61, 8407, etc. However, due to the enlargement of die-casting parts, the required molds are also becoming larger. In order to suppress the quenching deformation and cracking of the mold, it is necessary to develop low-distortion rapid cooling that improves toughness. technology to improve the toughness level of mold materials.
To improve the production efficiency and reduce the cost of die casting, high cycle operation is required. Compared with the previous mold, the high cycle operation increases the thermal load due to insufficient cooling, which increases the surface temperature of the mold and causes hot cracks to occur earlier. Due to the increase of the internal cooling hole and the closer to the cavity, the temperature difference between the internal cooling hole and the cavity surface increases the tensile thermal stress load and reduces the rigidity, and is prone to stress corrosion cracking, which makes the water leak connect to the cavity and reduce the mold. life. Therefore, it is necessary to develop new materials that can improve the life more than SKD6l. DAC is a material similar to SKD61 and is widely used, but its durability is better than SKD61.
DAC-S, developed to further improve its toughness, is 60% stronger than DAC. In order to evaluate the toughness level of die casting mold materials, the North American Die Casting Association (NADCA) set the Charpy impact value of AISI H13 (equivalent to SKD61). Charpy shock value of H13. DAC-P is equivalent to the former, and DAC-S is equivalent to the latter. The thermal cracking countermeasure of die casting mold needs to have high temperature strength. Generally speaking, toughness and strength are inversely related. DAC-P and DAC-S have the same strength as DAC at room temperature and high temperature due to their high-definition purification and densification of the structure. At room temperature of 20 degrees and high temperature of 600 degrees, it has 0.2% higher endurance than DAC. As mentioned above, it is necessary to have a mold material with higher grade than SKD61, greatly improved life, high temperature strength and toughness.
As high-performance die-casting mold materials: DACIO, DAC55, DAC45 and the latest development of ZHD435.
DACI0: Superior strength and toughness equivalent to DAC in the temperature range of 600 degrees. It is suitable for precision die-casting parts with complex shapes and high precision for electrical appliances and communication machines.
DAC45: It has higher strength than other materials at a high temperature of 700 degrees, and has the characteristics of resistance to softening, but it has poor toughness compared with DAC, so special attention should be paid to the cooling of crushing fire. Suitable for small and medium size die casting molds.
DAC55; It is characterized by high toughness and can increase the hardness in the initial stage. It is a material with balanced toughness and strength, and its service life is 1.4 times longer than that of SKD6l. Parts that can be applied to cylinder blocks, cylinder heads and drive systems of automobiles.
ZHD435. It has the same durability as DAC55 and can be used for large parts, has higher high temperature strength than DAC55, and is more favorable than DAC55 in thermal cracking and life.
The CNC Machining Of Die Casting Molds
---
The processing of die-casting molds is an important aspect of ensuring quality and reducing costs. The use of CAD/CAM/CAE production systems, five-axis machining machines, and the latest cutting tools to process molds makes mold quality and production efficiency continue to improve. The trend has three aspects: three-dimensional model-based processing methods, machining center machining instead of EDM, and hole machining automation. In the aspect of 3D model, it mainly adopts 3D model for mold design, the simplification of NC digital programming, and the construction of post-processing quality assurance system. EDM is replaced by a machining center. The main reason is that electrode machining requires a larger workload than cutting.
Therefore, EDM is mainly used because the mold has a rib-like deep groove shape. Now the deep groove shape may also be used. It can be solved by cutting processing, so that the production efficiency of the mold can be further improved. Automation of hole processing: There are many and various holes in the mold, which can be roughly divided into shallow holes with a depth of less than 100mm but with accuracy requirements of H7 to H8 and deep holes of 100 to 600nun for cooling and deflation, but the accuracy is required. There is no such requirement as a shallow hole. Hole processing occupies a large part of the time in mold processing.
Coupled with the hard material of the mold (HRC48 level), it is more difficult to process the hole. The use of quality engineering evaluation techniques on the machining center is to find the best target on the basis of studying the hole machining conditions. The best data used on the machining center results in a surface roughness increase of 1/3 and a diameter of the hole diameter. The deviation is increased by 1/5, and the life of the cutting tool is increased by more than 5 times. At the same time, the hole processing on the curved surface and the inclined surface is also automated.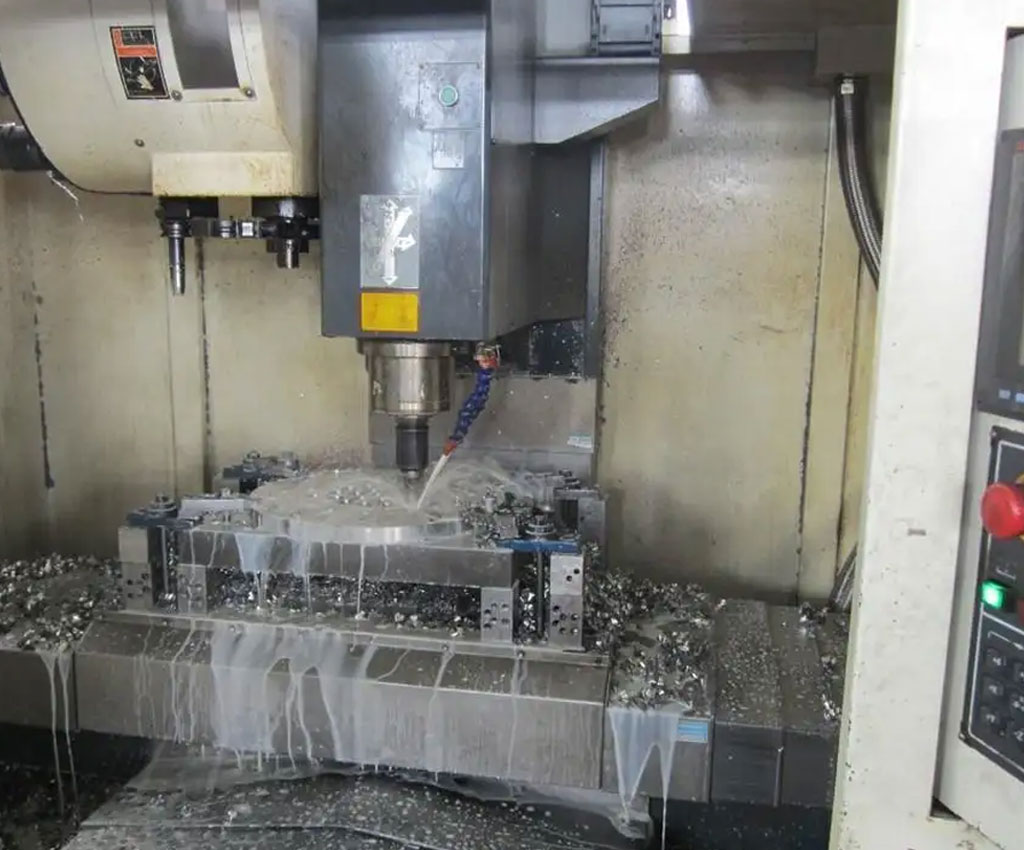 The Surface Treatment Of Die Casting Molds
---
There are several methods such as diffusion treatment, coating, nitriding + coating, etc. Although the diffusion treatment method has various trade names, it is mainly nitriding, soft nitriding, immersion nitriding, oxidation, nitriding + oxidation treatment of N, C, S, O alone or composite diffusion, and the representative nitrogen During the chemical treatment, a compound layer (white layer) is formed, which has good melting loss resistance, overburning resistance and sticking resistance, but poor crack resistance. Conversely, if the compound-free layer is formed only by the diffusion layer, the thermal crack resistance is good, but the melt damage resistance, overburn resistance, and sticking resistance are poor. The recent trend of diffusion treatment, oxidation treatment or nitridation + oxidation composite treatment is the mainstream, which is suitable for various surface treatment methods of die casting molds.
| | | |
| --- | --- | --- |
| 1. Diffusion treatment | Nitriding, Soft Nitriding, Sulfur Nitriding, Oxynitriding, Oxidation Nitriding + Oxidation | 1 Soft nitriding 2 Gas soft nitriding 3 Gas soft nitriding 4 Gas oxynitriding 5 Ion nitriding, plasma nitriding 6 Excessive nitriding 7 INIX 8 High vacuum gas composite 9 EH 10 Plate phosphorus nanostone |
| 2. Coating | PVD CVD TD | TiN TiCH TiAIN CrN TiN TiCH TiC AL2O3 VC |
| 3. Nitriding + coating | Nitriding + PVD low temperature + ID | TiN TiCH TiC TiAIN CrN Cr (CN) |
| 4. Diffusion treatment + coating | PCVD | Diffusion treatment: N, C, B, 0 Coating: l-Si-B-C-N-O |
The coating has PVD method, CVD method and ID process method. The ceramic coating film formed by the hard film coating method has excellent resistance to dissolution loss, overburning resistance, and adhesion resistance, but has little improvement in thermal cracking. Among such hard film coating methods, the CVD method and the ID process method are better in film adhesion, but the mold is easy to deform and change in size when it is processed at a high temperature of 1000 degrees. The PVD method can suppress the deformation of the mold due to the low temperature treatment, but it is inferior to the CVD method in terms of film adhesion.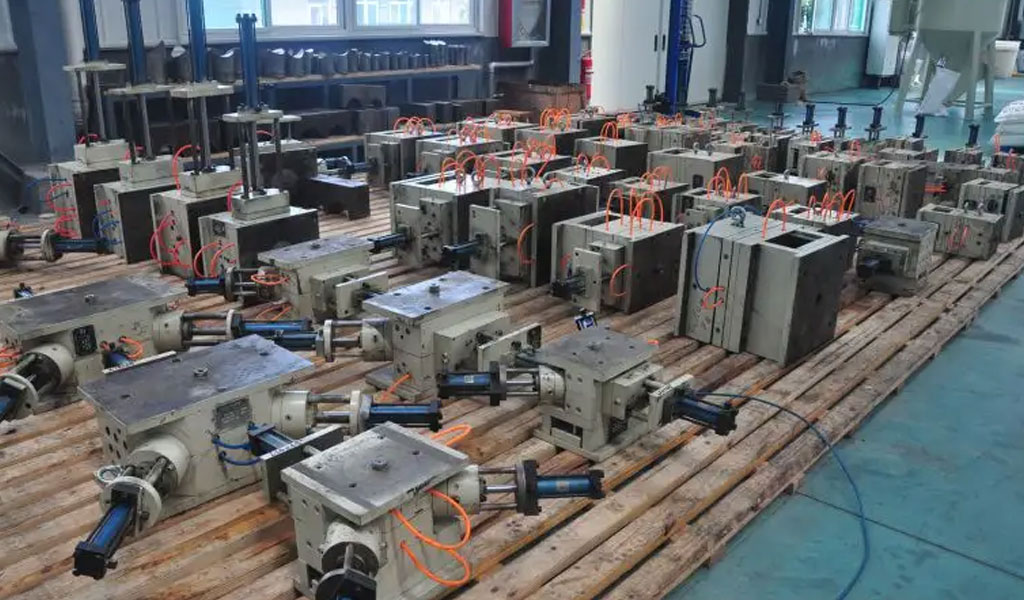 Nitriding coating, the representative method is nitriding method. In the nitriding furnace, only the nitrided diffusion layer is formed, and after taking it out, various coating methods of the mold are carried out in another PVD device. Such nitriding + PVD has the outermost layer film with resistance to dissolution loss, overburning resistance, and sticking resistance, and the nitrogen diffusion layer has thermal crack resistance. However, the films formed by the PVD method have a certain range of limits when they are suitable for complex-shaped molds. (nitridation + oxidation) composite treatment. The surface treatment of die-casting molds is trending worldwide, from the past nitriding and sulfur immersion nitriding treatment to the application of oxidation treatment.
Compared with iron nitrides formed by nitriding, iron oxides with high high temperature stability are more effective in dissolution loss, overburning, and adhesion when applied to die casting molds. The (nitridation + oxidation) composite treatment can be continuously processed in one device, and the time can be greatly shortened. In addition, continuous oxidation treatment in a controlled atmosphere that can form a compound layer without a nitrided diffusion layer can improve resistance to dissolution loss, resistance to overfire, resistance to sticking, and resistance to thermal cracking. Plasma CVD (PCVD). The raw materials are all gas. Because it is a film formed by plasma chemical reaction, it is a film with excellent adhesion and compactness at low temperature, which can well cover complex products.
In addition, the PCVD method can easily produce a so-called composite treatment of a diffusion hardening treatment hard coating such as nitriding in a single process without breaking the vacuum. Therefore, PCVD can be used for the processing of die-casting molds of three-dimensional objects. PCVD of boron-containing gas system creates a new boron diffusion treatment (boridation) boron-containing film, such as: TiB, TiBN, TiBCN, TiBIBN, TiAIBCN0, TiAISiBCN0, BN, BCN and other hard films. For example, the TiAIBN film has a hardness of more than 4000Hv, which is called an ultra-advanced coating. The combination of different elements can be selected to obtain a high degree of wear resistance, oxidation resistance, mold release, and lubricity that were not available in the past, so that the performance of die-casting molds suitable for various requirements can be greatly improved.
Examples of current applications include: magnesium alloy die-casting molds for mobile phone parts. In the past, mold release agents were used. After 30,000 times of use, welding and repairs were required due to corrosion, and the smoke scattered by the use of mold release agents polluted the environment. Edge burrs make it difficult to maintain accuracy. Nitrided diffusion hardened layer + TiN/TiAN/TiAISiCN0 multilayer film is applied to the mold by PCVD method, no release agent is needed at all, and it can be used for die casting 300,000 times, which prolongs the life of the mold, improves the environment, and suppresses flash burrs. Generate, shorten the die-casting cycle, improve production efficiency. In the molding of machine parts, mold release agent was applied every time in the past, which caused poor melt fluidity, wrinkled skin, problems in product processing, and high rejection rate.
After the nitrided diffusion hardening layer + TiN/TiAN/TiAISiCN0 multilayer film used in this mold, the amount of release agent is less than 1/8 of that in the past, the fluidity is improved, the wrinkles are no longer appear, and beautiful products are processed, and thus Reduce consumption and improve production efficiency. In the molding of automobile parts, in the past, a large amount of mold release agent was used for spray molding, which required welding repairs about 60,000 times, and there were many casting defects and a high defect rate. After using the nitrided diffusion hardened layer + TiN/TiAN/TiAISiCN0 multilayer film, the release agent is reduced to less than 1/2, and the casting is increased to more than 120,000 times. It not only prolongs the life of the mold, but also suppresses casting defects, reduces consumption, and improves the production environment. Due to the composite treatment effect, the thermal cracking resistance, overburning resistance and sticking resistance are improved. In aluminum die-casting, there are die-casting molds that have been cast more than 1 million times without release agents.
Die Casting Molds Life And Heat Treatment
---
The reasons for the low life of die casting molds involve many factors. Various complex factors such as materials, processing, heat treatment, maintenance, and repairs will affect the life of the mold.
The thermal fatigue phenomenon of the mold in the casting process is related to the toughness, ductility, crack progression speed, etc. of the mold steel and the characteristics of the material, and the mechanical stress generated during the operation is also the cause. On the other hand, the dissolution loss phenomenon is also very different due to the reactivity and contact friction of the mold material and the molten metal.
The reaction morphology is also different due to the different types of die-casting metals (AI, Mg, Zn, etc.). In addition, the stability and life-span of the mold during operation are also closely related to its maintenance and repair techniques, such as the improvement of the electro-processed metamorphic layer. , selection of welding conditions, adjustment of deformation, etc.
The heat treatment of mold steel is a very important basic technology to effectively exert the function and performance of the material, and the performance of the heat treatment is significantly different. No matter how good the steel is without proper heat treatment, many failures such as thermal cracking, splitting, corrosion resistance and wear resistance reduction will occur during the operation of the mold.
In recent years, the heat treatment of die steel has mostly used vacuum gas pressure heat treatment furnaces, mainly because it can improve the operating environment, can perform bright heat treatment on molds, have high pressure during cooling, and can manufacture large heat treatment furnaces. Vacuum pressurized gas cooling methods, such as water quenching, oil quenching, polymer quenching, salt bath quenching, etc., can generally achieve the same cooling rate in recent years, and can also be treated with less soft spots.
In recent years, with the enlargement of molds, steel grades for large molds with improved hardenability have been developed. In the heat treatment of large molds, the cooling rate of the surface layer and the central part is very different, and the uneven heat treatment will cause problems such as deformation, size change, and splitting. Therefore, it is very important to control the temperature difference between the inside and outside during the cooling process. No matter how good the steel is, the unstable heat treatment is difficult to exert its characteristics. The North American Die Casting Association has formulated standards for the quality of die casting mold materials and heat treatment. Its main items are:
Material composition
Hardness (annealing, quenching-tempering)
The cleanliness of the material is judged by (ASTM, A-681, Sec6)
Ultrasonic flaw detection test (internal defect inspection), impact test (determination of ductility and ductility)
Crystal size
Micro-segregation
Annealing structure, etc.
Countries, regions, suppliers, and production enterprises can have a unified view on the steel for molds, mold processing, heat treatment, etc., which is beneficial to improve the quality and production of die-casting molds.
Contact Pintejin Die Casting for Die Casting Molds Today
---
Are you ready to start working on your new project and search for your die casting supplier? If yes then let's go.
Today for your die casting project to find A reliable Chinese mold company is more important, because this will bring your market up very quickly, and you will win more profits on your project with spending less cost.
Please think about today 80% of big companies are sourcing goods from China. Like the iPhone and some other famous companies buy things from China.
So what are you worry about? If you are ready then speed up to open your market immediately and join your profits.
If you are looking for some good Chinese die casting manufacturing partner you can contact us. We.Pintejin Group which is a professional precision die casting mold and die casting company sell moulds and molding parts to the world.
We guarantee you will be 100% happy with our service and quality, we have a very professional technical team to handle your project very carefully and make the perfect die casting molds and parts for you, some of our customers moved the molds to our factory for troubleshooting since their current mold supplier is not as professional as us.
We can send you some of our current customers for you to verify our service, quality, and price. send us an email to [email protected] to get a price. We will never share your design with others. we are willing to sign an NDA to protect your project.